Are you Geared Up for the Winter Ski Season?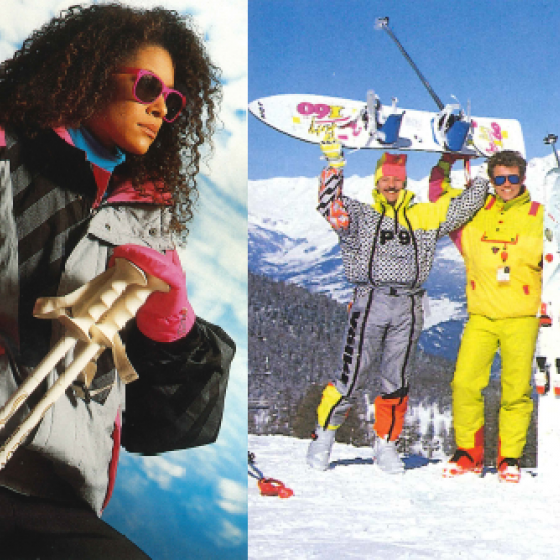 Fashion is always changing. Some may say evolving, but no matter what environment we talk about fashion seems to work in circles. Sometimes simplicity brings a new lease of life to styles, other times it is modifications and innovations that signals a masterpiece not only on the catwalk but on the slopes. Maybe the Skibeards by BeardSki will take off this winter or maybe the baselayers by Mitmunk will bring together both style and functionality to really stand out in the snow. Here we take a glance at fashion that has past, what to expect to see on the slopes this season and what we might expect in the future as we look into our crystal ball.
Students may be familiar with the film Hot Tub Time Machine (2010) where a group of friends are transported by the power of time travel to "Winterfest '86", which they had attended in their youth. Our eyes are opened up to the bright block colours, perms and grilled Wayfarers that led the way for style. Colour clashes, turned up collars, high-top haircuts, Gordini ski goggles with impressive prints, fluffy headbands, tacky leather jackets and the classic under-onesie all make an appearance as the youth of today are introduced to the 80s. This list is not exhaustive and yet already we see a number of familiar items. It seems some items have survived the test of time or we have arrived at a point where fashion has taken a full circle. The functionality of long johns cannot be underestimated and onesies have now become a household item used for lounging or, for the brave few, worn as street-wear with the a pair of fur-lined boots that even the men of this world are taking to. And why not when comfy and warmth is something we seek in the bitterness of winter?
Still, as we start to look towards 2014 new trends are forcing their way through the catwalks and catalogues and it will be interesting to see which catch on. Fans of classic 90s TV including the Fresh Prince of Bel-Air will forever admire the jazzed-up 'pants' of Will Smith as he jumps and jives his way out of comical situations. The bright colours of the Nike shell jackets made an appearance back in 2007 and, while colours have dimmed down on their annual collection, shell jackets remain popular for everyday wear. Those that have recently travelled to South East Asia will have noticed the many student travellers rocking denim joggers covered in elephant prints and it seems this alternative design will soon not appear so alien to the eye. Such items are bound to hit the slopes in a modified manner at some point and one such case in point are leggings. For men, these leggings are worn as baselayers. For women, these are bottoms to be worn on their own while others stand back and hope frost-bite doesn't set in soon. These leggings/baselayers can be seen as an amalgamation of long johns and the 'tights' that many sportsmen and women are wearing in their various disciplines. From the need to be aerodynamic to providing warmth and wicking sweat away from the body, outlandish prints now cover from waist to foot with the intent of remaining stylish.
Let us jump from the mid-90s to the first decade of the 21st century where extreme sportsmen and women adopted more of a street-style collection. Baggy salopettes and heavy looking jackets entered via the snowboarders that would debut in the Winter X-Games. O'Neil goggles with multi-coloured tints would bring a sleek style to the slopes while proving to be a top-end piece of kit. Beanie hats became common place before society once again accepted the common sight of bobble hats and peaked beanie hats. Again, these items of ski wear developed to adopt the classic Christmas patterns on bobble hats and striking colours on jackets to match the salopettes. The technology of the outerwear may not be visible to a passer-by but closer inspection will highlight developed materials, vents fit for purpose, layers that are designed by science and fastenings that have been chosen for functionality.
The technology within the skis and boards has improved year after year as have boots and bindings. Materials have been developed to be lightweight but strong and clasps have been designed to offer support but promote safety. Boots themselves have also evolved to not only provide better stability through a combination of materials but also to look less like something you would see on Robocop and more like…well a boot. Adidas is one such brand that has looked to its trainers for inspiration in a bid to develop boots that will strike a chord with younger skiers.
As we look to this new ski season we see a return to block colours and subtle jagged patterns across jackets. Certain features that have become mainstream over the years including the hooded jackets remain and functionality through the use of pockets to hold the all-important lift passes and resort maps. Whether skiers and boarders choose their kit to stand out from the crowd, fit in with the latest trend or dive into the bargain bucket for a neat piece of kit, we quickly realise that one important aspect of all of this remains – hitting the slopes.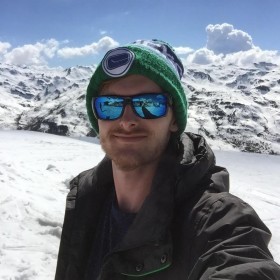 About the Author
Tim Jenkins
A former primary school teacher, Tim has been writing for educational travel websites, educational publications and leisure magazines for the past three years. His first-hand experience in leading adventure residential trips and seeing the benefits of learning outside the classroom has further fuelled his interest into studying the impact of outdoor education on young learners. Always seeking his next trip to the slopes, Tim's favourite ski resort is Les Menuires from where you can explore the Three Valleys ski area.