We Have A Winner! The Skibound Photo Competition Winner is Announced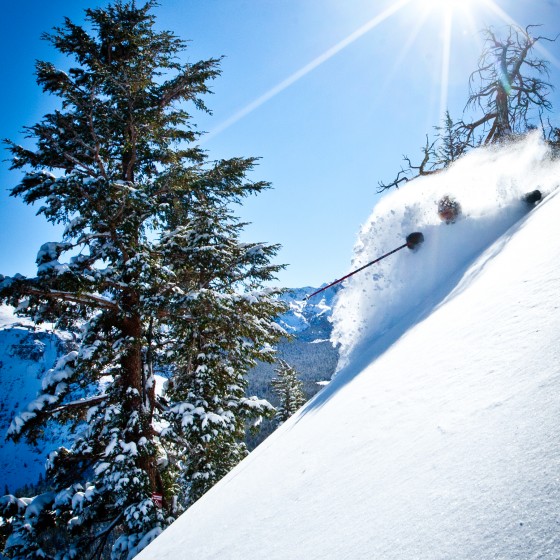 Earlier this year we launched a photo competition providing you with a platform to showcase your best ski shots. Your school ski trip will always live in the memory, but we knew some of those standout memories would make it to print. Covering three categories (action, group, and scenic) the challenge was set to beat last year's winners, which produced some truly impressive snaps rich in colour, fun and wall-mountable quality.
With the influx of great photos flooding through our e-mail, it was a lengthy process before we could pick our top three. From the scenic backdrops showing snow-capped mountains taken from an elevated level to fantastic shots of our groups enjoying their ski experience, the competition reminded everyone in the office of the lifelong memories to be gained from a school ski trip. It was clear from many of the photos that a lot of thought, time and willingness from the students to get involved had been put in to produce a selection of images that would make a brilliant slideshow.
Just as it's done with the Winter Olympics, three candidates get to stand on the podium. So with the flags slowly rising behind the gold, silver and bronze and the anthems ringing in the ears of the audience, here we find our top three photos and why we have selected them to enter the realms of photographic glory.
First prize and the winner of £300 off your next school ski trip AND a pair of Salomon skis: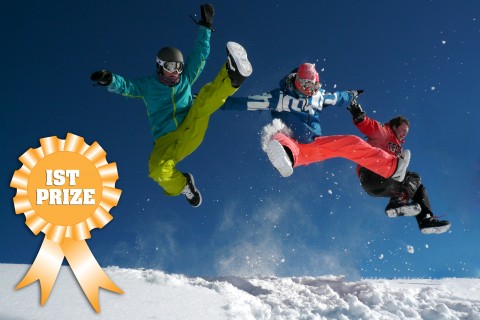 Why we like this photoTiming is everything in photography and even if these guys weren't jumping on the spot for more than five minutes, this photo deserves a medal. Blue skies, fresh powder and students having an awesome time - the ingredients for a perfect school ski trip and this photo has all three.
Second prize and the winner of £200 off your next school ski trip AND a Salomon travel bag: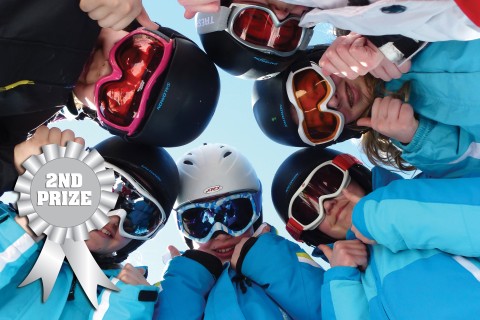 Why we like this photoA circle has become to represent a number of different things and we like to think this image represents inclusion, unity and a bond between peers that is built through one of our school ski trips. This huddle of colourful characters therefore gets a thumbs-up and is representative of the positive experiences we hear of from our Party Leaders.
Third prize and the winner of £100 off your next school ski trip AND a Salomon travel bag: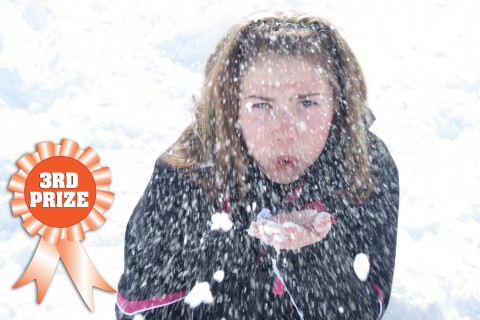 Why we like this photoHighlighting the magical experience of slaloming down the slopes and the essence of our ability to jump on our skis or boards is snow itself. Captured here, we see how the crisp white snow of the Alps brings immediate enjoyment to our groups.We would like to thank all the entries submitted to us over the past few months and with ski lifts gradually opening, we wish you a brilliant ski season.
Click here to find out more about our numeous ski destinations or call us on 01273 244570 and start planning you next school ski trip today.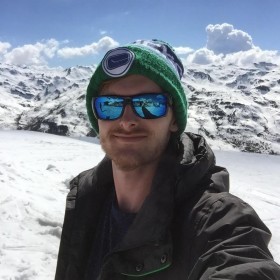 About the Author
Tim Jenkins
A former primary school teacher, Tim has been writing for educational travel websites, educational publications and leisure magazines for the past three years. His first-hand experience in leading adventure residential trips and seeing the benefits of learning outside the classroom has further fuelled his interest into studying the impact of outdoor education on young learners. Always seeking his next trip to the slopes, Tim's favourite ski resort is Les Menuires from where you can explore the Three Valleys ski area.