Tips down at Sunday River
Opening day is always a big event at our ski resorts and Sunday River is no different. The gates to some of the finest skiing opens today with the 19th October marketing the crossover between the two best worlds – autumn leaves and winter-like snow conditions.
Reported as one of the best opening days on record, Sunday River's team have busted tooth and nail to provide groups with excellent snow conditions. With the help of 1900 snow cannons, the resort has been able to extend the ski season. Spending around $2.5 million dollars every year on snowmaking, there is no doubt Sunday River is committed to providing SkiBound school ski groups with great snow conditions.
The Process
Pull water from a source
Pump up to slope-side mountain machines
Use the most technically advanced technology to force the water droplets through pressurised air nozzles
Thanks to some cooler temperatures forecasted, the Sunday River snowmaking team are prepared for a weekend of action. Supported by the most powerful snowmaking system, Sunday River remains committed to its snow guarantee.
Catch up with the latest from Sunday River's opening day in the video below: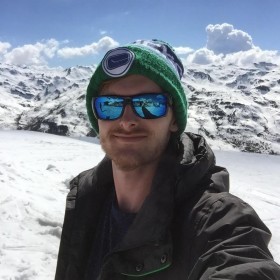 About the Author
Tim Jenkins
A former primary school teacher, Tim has been writing for educational travel websites, educational publications and leisure magazines for the past three years. His first-hand experience in leading adventure residential trips and seeing the benefits of learning outside the classroom has further fuelled his interest into studying the impact of outdoor education on young learners. Always seeking his next trip to the slopes, Tim's favourite ski resort is Les Menuires from where you can explore the Three Valleys ski area.