Welcome To Our Clubhotels! A Resort Report with Skibound's Sarah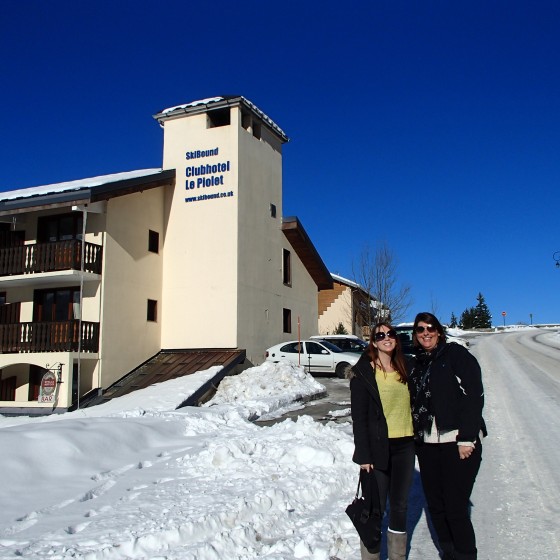 Sarah and Sam are two of our Ski Tour Co-ordinators here at Skibound and recently travelled to visit our Clubhotels in France. With an opportunity to see how the resorts are shaping up for the new ski season, who better to ask to find out more about the ski, resorts and great facilities at our Clubhotels. We caught up with Sarah to hear about her trip where she met with our resort teams.
Which resorts did you visit during your visit to France?
Alpe d'Huez, Tignes, La Plagne and Les Menuires, so in total I visited 6 out of the 7 Clubhotels we have. The first night was spent in the Vallee Blanche in Alpe d'Huez where we explored the resort, saw them preparing the ice-rink for the season, walked up to the main DMC Gondola and had visions of how busy the resort was going to get when the season kicks off in a few weeks. On the second day we went to La Plagne where the snow was so thick and deep, the front door on the terrace barely opened! We spent that night in Clubhotel Curling in Tignes and I was able to have a lovely evening stroll through the village underneath the Christmas lights and really get into the festive spirit.
Which is your favourite Club resort?
I really like the Vallee Blanche in Alpe d'Huez as there are lots of communal areas for the students to go, including the disco in the basement which is always a winner. The views over the valley are breathtaking and it's only a very short walk to the village centre where there is a wide range of evening activities. After a hard day skiing, a popular choice for students is Invertigo - a high ropes aerial assault course.
What did you want to gain from your trip?
My main reason for going out to France was to spend time with the new and returning resort staff. It's very important to me that the office staff in the UK and the resort teams in France have a good rapport and relationship throughout the season as communication is key to providing a successful season for our clients. I was there to give an overview on what I do as a job and give them an idea of just how much work goes into planning a ski trip, especially from the teacher's side.
What makes our Clubhotels stand out from others as a great choice for school groups?
Our Clubhotels are located in premium resorts which sets them apart from competitors. You have Serre Chevalier and Alpe d'Huez which both provide over 250kms of skiing or you have access to the 3-valleys when you stay in Les Menuires. Tignes can be linked to Val d'Isere and La Plagne to Les Arc so the opportunities are near endless! We also have a great recruitment process, which assures we get the highest quality staff in the hotels. As we are part of TUI, a lot of our staff come highly recommended from First Choice and Thomson summer roles.
How do our chosen resorts cater for schools requiring good après-ski?
As our Clubhotels are always central to the resort, they are perfect for walking to local après ski activities. The hotels themselves also put on a selection of entertainments such as crepe making, karaoke and egg-drop to name just a few. The egg-drop activity is where you have to build a contraption out of materials such as bin bags, tissue paper, string and then attach an egg to drop off the balcony. If it doesn't smash then you have got the physics correct. One of the most popular ways to avoid the egg smashing is to make a parachute out of the bin bag to slow it down.
Sarah's view
What are your early memories from a ski trip?
I went skiing a few times as a kid with my Mum and growing up in Australia. It wasn't common for schools to run ski trips which was a shame, but I think that has changed quite a bit now!
My best memory was my first University ski trip to Les Arc. Myself and my housemates all decided to have boarding lessons on a dry slope in Sussex and then thought we would give it a real go on snow, so in March 2007 we packed our bags for a 17 hour coach journey to France. I think in total, there were 6 full coaches so it was a very big trip.
My favourite memory is skiing all day and then meeting the group of 200+ people for a Raclette night at a slope-side restaurant on the top of the mountain. After a social evening involving lots of cheese (both food and music), we had a torchlight decent down to the bottom.
What were the highlights of your ski trip?
Apart from the Raclette night being a highlight, making new friends and meeting new people was a significant part of the trip. You end up speaking to people who you don't usually come across in some of your lessons and, to this day, I am still in contact with some of them. It was also the trip that really gave me a taste of group ski trips. Nothing beats a holiday with your friends.
What is your top tip for school groups heading out this ski season?
My top tip would be to get snap happy! Do not forget your camera! It could be getting that perfect snap of your mate carving down the mountain or it could be an embarrassing fall that is captured in time, maybe even something unexpected your teacher does! You will also have a lot of fun in the evenings so make sure you always have a camera. In years to come, you will really enjoy looking back on the memories of a school ski trip.
If you want to hear more about our Clubhotels or start planning your next school ski trip then call us on 01273 244570 or Request a Quote.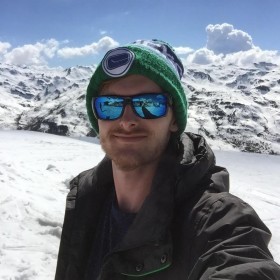 About the Author
Tim Jenkins
A former primary school teacher, Tim has been writing for educational travel websites, educational publications and leisure magazines for the past three years. His first-hand experience in leading adventure residential trips and seeing the benefits of learning outside the classroom has further fuelled his interest into studying the impact of outdoor education on young learners. Always seeking his next trip to the slopes, Tim's favourite ski resort is Les Menuires from where you can explore the Three Valleys ski area.