Culture, nature, sport and history with a Canadian stopover
Canada is known for its breathtaking ski views, but a ski trip across the pond also means an exciting opportunity to visit some of Canada's most vibrant cities.
Canada is becoming more and more popular as a ski destination for school groups, and with good reason. The famous Canadian hospitality attracts guests all year round and is up there among the best in the world! When it comes to skiing, students and teachers will enjoy fantastic snow conditions across a variety of terrain. When the weather is not so forthcoming, Canadian resorts provide extensive snow making facilities, and off the slopes groups are treated to outstanding accommodation and impressive, unique après-ski options.
But outside of your groups' days in resort, a ski trip across the pond offers something truly exciting – a city stopover. A ski trip also presents the opportunity to visit some of Canada's most vibrant cities. SkiBound's chosen resorts are mostly located just a few hours' drive from many cities, so take the experience to the next level on your next trip.
Our Picks
Calgary
Also known as 'Cowtown' or 'Stampede city', Calgary is a cosmopolitan and modern city, despite its rodeo reputation! Located in the state of Alberta, close by to SkiBound resorts Banff and Jasper, it was the first Canadian host of the winter Olympics in 1988. Considered as one of the best places to live in Canada, Calgary will not disappoint with a wide range of activities from museums, art, sports, shopping, festivals and idyllic parks.

Vancouver
Put simply, it's impossible not to love Vancouver. The city is well known for its urban centre surrounded by nature and offers so much more than the usual museums, shopping malls and impressive skyline. See your students explore the flora and fauna in beautiful Stanley Park, (best discovered by bike), take the cable car up to Grouse Mountain to catch a glimpse of some bears, or take a boat trip out onto the ocean to watch wales in their natural habitat. Vancouver is within reach of SkiBound resorts Big White and Sun Peaks.
Montréal
Montréal is located in the French speaking region of Québec and boasts a unique culture and beauty, drawing influences from its French and English traditions. Many music and arts festival take place here throughout the year and Montreal holds the nickname 'city of a hundred steeples' due to its numerous stunning churches. The city spreads out from a central island and teems with cosmopolitan vibes – well worth a visit to put those language skills into practise! Groups travelling to Tremblant are best placed to stopover in Montreal.


Québec City
To find more about Canada's fascinating history, a must-visit is the beautiful city of Québec City. The capital of the state of Quebec, the city is one of the oldest in North America and is awash with beautiful monuments and colonial architecture. Those keen on history will adore the fortified city walls surrounding Old Quebec and the breath taking 'La Citadelle' within them. SkiBound resort Mont St Anne is just 30 minutes from Quebec city, so there's no excuse not to visit!
Toronto
Recognised as one of the most cosmopolitan cities in the world and famous for its diversity, Toronto is a hive of excitement for school groups where art, music and culture can be experienced around every corner. Known for its music and theatre scene, your group can catch a memorable show or concert on your stopover, or if sports is more up your street, catch a game of hockey – Canada's favourite sport!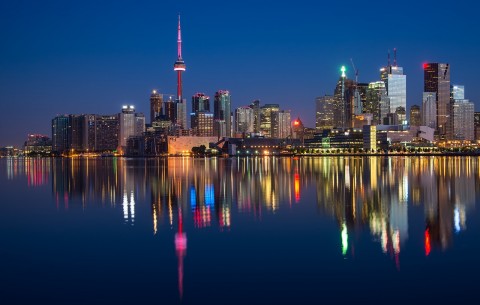 Want to find out more about Canadian resorts and their stopovers? Get in touch with our ski experts.